William L. Mitchell
Bill Mitchell had two lifelong passions - drawing automobiles and driving them. They joined uniquely to create one of the great design careers in automotive history. Throughout his life, as artist, automotive designer, and General Motors executive, Bill Mitchell's best work combined a sleek, sharp-edged appearance and the sensation of great power and all-out speed.
"Power In Motion: The Automotive Design Career Of Bill Mitchell" November 1989 exhibition at The Henry Ford.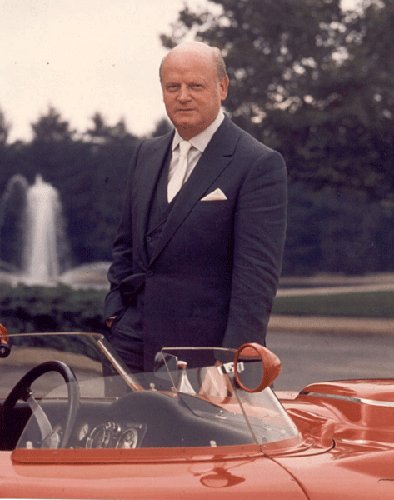 William L. Mitchell (1912-1988) was born in Cleveland, Ohio, and grew up in Greenville, Pennsylvania. His father was a Buick dealer who frequently brought home Stutz and Mercer sport car trade-ins that quickly focused Mitchell's attention on the excitement of driving. In 1927, Mitchell went to work as an office boy at Barron Collier Advertising Agency in New York, a position that eventually led to illustration and layout work and to a friendship with Collier's sons. They introduced him to amateur road racing on their track near Tarrytown, New York, and he illustrated their programs with dynamic sketches. Mitchell received formal training at the Carnegie Institute of Technology (now Carnegie Mellon University) in Pittsburgh in 1930 and at the Art Students League in New York City from 1930 to 1931. A friend of Barron Collier's recommended he contact Harley Earl at General Motors for a position.
Mitchell joined the Art and Color Section at GM in 1935 and in 1937 was named Chief Designer of the Cadillac Studio. His first assignment was to develop a sports sedan. The Cadillac Sixty Special introduced in 1938 was an outstanding success.
William Mitchell remained at GM for 42 years, finally retiring as Vice President of the Design Staff in 1977. From 1958 to 1977 he was responsible for designs that produced 72 million cars, including the Buick Riviera, Chevrolet Camaro, Pontiac Firebird, Cadillac Seville, and his personal favorite, the Corvette. After his retirement from General Motors, Mitchell operated a private design consulting firm, William L. Mitchell Design, from 1977 to 1984.

During the month of August, 1984, an oral reminiscence was conducted with William L. Mitchell for the collections of The Henry Ford. Click here to read the complete Mitchell oral history transcript.