Eugene "Bob" Gregorie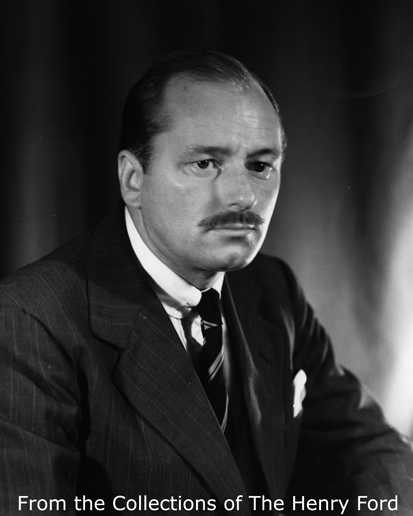 Eugene "Bob" Gregorie (1908-2002) began his career as a designer while he was a young man living in New York. An informal apprenticeship in yacht design in Bayonne, NJ, led him to important connections in his native state of New York. The prestigious naval design firm of Cox & Stevens (later known as Gibbs & Stevens) gave Gregorie his training in design.

It was after the stock market crash in 1929 and the beginning of the Great Depression that Gregorie came to Michigan. He came to the Detroit area hoping to find a career in automotive design. Although Gregorie's past design experience had mostly been in boats, he was confident that he could make a comfortable transition into automotive design.

At twenty-one years of age Gregorie began his career in automotive design at General Motors. Due to the economic crisis with which the country was contending, Gregorie was let go after only a short period of time at GM. It was not long after his brief career at GM, however, that Gregorie had his fateful encounter with Edsel Ford. In 1932, at the age of twenty-two, Eugene Gregorie was hired into Ford Motor Company.

Gregorie's career at Ford began with the assignment of designing a car for the Ford market in Europe. Gregorie designed the Model Y, which was well received by the English, French, and Germans. Gregorie's compatibility with Edsel Ford, and his own creative design innovations, led to his becoming the chief of Ford's new design department in 1935. Some of Gregorie's best known creations were the 1936 Lincoln Zephyr, the 1939 Lincoln Continental, and the 1949 Mercury, the latter made famous by James Dean in Rebel Without a Cause.

Gregorie left Ford Motor Company soon after Edsel Ford's death in 1943. He returned a year later, at Henry Ford II's request, only to leave after two years due to conflicts with top management. At age 38 he left Detroit for Florida. After his relocation, Gregorie returned to the roots of his career training and designed yachts; he never again designed automobiles. Gregorie resided in Florida until his death in 2002. He was 94 years old.

On February 4, 1985, an oral reminiscence was conducted with Bob Gregorie for the collections of The Henry Ford. Click here to read the complete Gregorie oral history transcript.